Location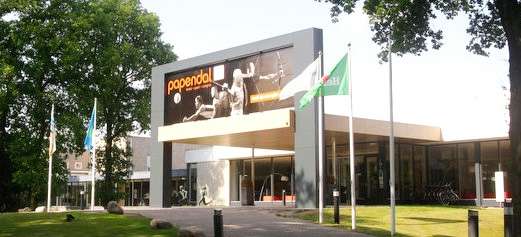 Photo credit: Papendal Hotel and Congress Centre
Situated at the edge of the Veluwe National Park, Papendal offers a selection of comfortable accommodation, all with ensuite bathrooms and wonderful views of the parklands.
TRANSPORTATION
Papendal can easily be reached by road or rail. The nearest rail stations are Arnhem Central (8km) and Oosterbeek (6km) both are served by frequent trains from Amsterdam's Schiphol Airport. The website for Schiphol airport is www.schiphol.nl and contains useful information on flights and car hire.
TRAIN
The train runs directly from Amsterdam's Schiphol Airport to Arnhem Station – go to the main train terminal. It will take approximately 1hr 15 min to reach Arnhem station. You may check the train timetables and prices at www.ns.nl.
Train tickets
Train tickets for domestic travel are available from the yellow ticket machines near the platforms at Schiphol Plaza. Tickets (for domestic and international travel) are also available from the ticket offices, which are situated close to the red/white-checked cube at Schiphol Plaza. Staff at the ticket offices will also be able to provide you with train departure information.
TAXI
Taxis are usually parked at Arnhem Station but can also be contacted by telephone on +31 26-3210000. A taxi from Arnhem Central to Papendal will cost about €8.
CAR
Information regarding car hire companies based at Schiphol Airport can be found at www.schiphol.nl.
Directions to Papendal from Amsterdam, The Hague, Utrect and points west:
On the A12/E35, direction Arnhem. Turn off at exit Oosterbeek, Wolfheze, Arnhem-Centrum, Hoge Veluwe, exit 25.
At the N224 turn right direction Arnhem.
On the N224 at the second set of traffic lights, take the exit Papendal.
Thu
Fri
Sat
Sun
Mon
Tue

+

20°

+

21°

+

21°

+

23°

+

23°

+

21°

+

12°

+

14°

+

14°

+

17°

+

18°

+

15°