Exhibitor
Tetra Pak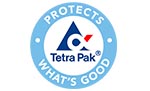 Tetra Pak is the world's leading food processing and packaging solutions company. Working closely with our customers and suppliers, we provide safe, innovative and environmentally sound products that each day meet the needs of hundreds of millions of people in more than 160 countries. With more than 24,000 employees around the world, we believe in responsible industry leadership and a sustainable approach to business. Our motto, "PROTECTS WHAT'S GOOD™," reflects our vision to make food safe and available, everywhere.​​
Products
We are specialists in complete solutions for the processing, packaging and distribution of food products. Our solutions are specifically designed to be as economical with resources as possible. Dairy products, beverages, ice cream, cheese, food and vegetables and pet food are examples of products that can be processed or packaged in our processing and packaging lines. We focus on keeping the consumption of all raw materials and energy to a minimum during both the manufacturing process and distribution. The processing solutions are also designed to treat the products gently.
We see the whole picture of your production​
You may know us from our packages or processing equipment, ​this, combined with our ability to deliver solutions throughout your entire production makes us unique. Our end-to-end solutions seamlessly integrate processing, packaging, automation and technical services. The result is not just added convenience for you, it is also increased efficiency, quality and reliability. When we integrate and manage the whole value chain, we're able to help you optimise operations to the fullest.
Visit: https://tetrapak.com/
« Go Back