Special Issue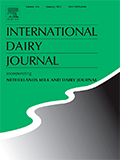 International Dairy Journal
Special issue from the 11th NIZO Dairy Conference
Submission Guidelines for Authors:
Authors are invited to submit an original manuscript or review paper for publication in the International Dairy Journal for the "Special issue from the 11th NIZO Dairy Conference".
Please refer to the journal's Guide for Authors for specific advice on how to prepare a paper (www.elsevier.com/locate/idairyj). Papers must be submitted electronically via the Elsevier editorial system for the Journal at www.editorialmanager.com/inda/default.aspx beginning  September 1, 2019. To ensure that all manuscripts are correctly identified for inclusion into the special issue, it is important to select "VSI: 11th NIZO Dairy Conference" when you reach the "Article Type" step in the submission process.
Review articles are particularly welcome and any inquiries regarding the content of papers should be submitted to Dr. Thom Huppertz (Thom.Huppertz@nizo.com).
Special issue Timelines:
September 1, 2019 : EES will be open for submission
November 15, 2019 : Deadline for submission
September 2019 – March 2020 : Period of peer-review process
---