Special Issue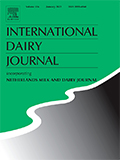 Call for papers
Special Issue from the 12th NIZO Dairy Conference
International Dairy Journal is inviting all oral and poster presenters at the 12th NIZO Dairy Conference to submit papers on their presented work to the Special Issue of the journal.
Submissions for this Special Issue can be in the form of original research papers, review articles, and short communications. All submitted papers will be subjected to the same screening and peer-review process as regularly submitted papers.
The Journal's Guide for Authors on how to prepare a paper is available at https://www.elsevier.com/journals/international-dairy-journal/0958-6946/guide-for-authors. Papers must be submitted electronically via the Editorial Manager System (EM) site for the Journal at https://www.editorialmanager.com/inda/default.aspx -
The submission portal will open on October 5th, 2021 and will close on December 5th, 2021. After this date, the portal will be closed
To ensure that all manuscripts are correctly identified for inclusion into the special issue, it is important to select "VSI: 12th NIZO Dairy " when you reach the "Article Type" step in the submission process.
Guest Editors:
Any inquiries regarding the content of papers should be submitted to:
Prof. Thom Huppertz
Contact Thom Huppertz
Please do not email credit card information under any circumstances.
---